Unlocking the Power of the Digital Thread
April 04, 2022
As the space economy accelerates, Lockheed Martin is blazing a trail, leveraging vision and innovation to pioneer a future in which digital accessibility gives mission partners and employees an opportunity to have a voice in how we can rapidly develop critical capabilities, build a sustainable future, and create powerful new methods to connect and protect our world.
NGI Means 'Digital First'
Since the first space race, a lot has changed. In today's world, threat evolution is pacing the need for creation of new solutions faster and with more collaboration from our customers. Lockheed Martin is developing digital capabilities that will revolutionize space exploration, hypersonic and missile defense, satellite development, and space-based defense capabilities, as well as democratize the process of scientific discovery and innovation that lies at the heart of the new space age. Those changes, in turn, are opening up new opportunities for everyone.
"We're learning a lot, and still have a lot to do to continue to protect our nation, protect our allies and protect our families," says Whitley Poyser, digital engineering executive for the Next Generation Interceptor (NGI) program.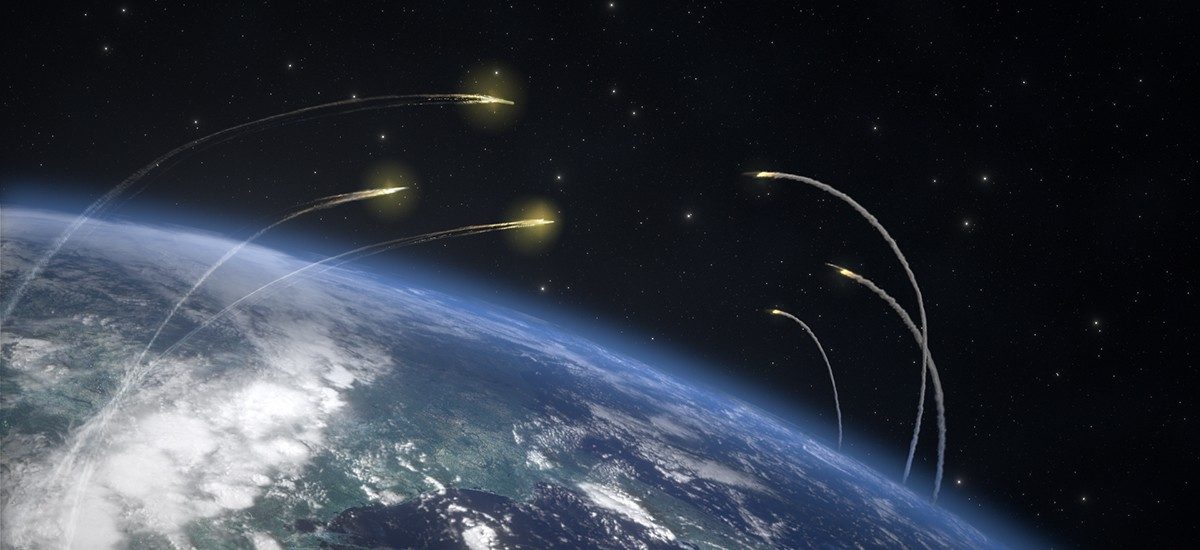 Whitley is responsible for developing and implementing Lockheed Martin's NGI digital strategy. The U.S. Missile Defense Agency's NGI program is designed to protect the United States from complex, rogue threat, ballistic missile attacks. The interceptor is an end-to-end design to detect, contain and destroy incoming threats.
NGI is "Digital from Day One." But the advances NGI represents are not just about digital tools, they are also about encouraging the human element of trust and partnership and learning together. "The tools are new, but the engineering rigor that underpin our processes and capabilities remain intact," Whitley says.
"The most important parts of the process are listening to our customer's needs and objectives, and building trust," she says. "We're implementing digital engineering technologies with the intent of supporting our customer's needs faster and more effectively."
Workforce of the Future is Here
Generational expectations are shifting, and empowered by digital tools, they are changing forever the way we do business. In Lockheed Martin Space's workforce alone, more than 50 percent are new hires, many of them millennials, who have less than five years of experience. Add to that a large number of high school and college interns – Gen Z-ers - who are rapidly rising in influence. Together, "they're already challenging our expectations of the workforce of the future," Whitley adds.
The technology these generations grew up with isn't just something fun to use, it's an integral way to work. And they see it promoting equity and business transformation. "They don't need to rely on these huge chains of historical hierarchy to make decisions or to have an influence – you see that even outside of the workforce. You know where they stand, what they believe in, how they contribute."
Whitley uses the analogy of the music industry. Out with the old: Find an agent, find a record label, get airplay. In with the new: "Now you have digital music, video and social media platforms. Anybody can write a song and put it out to the world, and you can create a movement or a fan base, without all the decision gates of the past."
That same accessibility is being transferred to the workplace. An agile program like NGI, for example, uses digital tools so that "our teams at all levels can have access, and see what we're working so that they are empowered to solve the problems they need to solve. They don't have to ask permission to get access to the information."
Working across the NGI leadership team, members are breaking down barriers so that all voices across the team are heard – "democratizing" the decision-making process, Whitley explains.  "If you're a high school intern and you want to figure out how to get involved, let's get you going. If you're a first line leader with a team who wants to change a process that isn't working, let's lean into that, too."
From how companies execute payroll, to how we defend our interests and allies on and above Earth, digital is everywhere - and so is the disparity among communities, an issue of equity that Whitley is focused on changing.
It's a complex situation. The divide exists, but the ubiquity of digital capabilities "opens up opportunities for so many people who might not have had them before," she says.
Space is one example. Adding digital tools to the new space race has transformed not only the commercial space economy but has also brought in new entrants to the industry, many of them digital natives, opening up new worlds of opportunity.
"It's lowered the barrier to create new ideas and have innovation from people who, 10-15 years ago, would have not had an effective way of engaging in this industry," Whitley says. "Now we can have all this robustness of thought and ideas and innovation, because everybody can contribute. When did we think that we would have gas stations in space?"
Digital tools are also transforming the workforce and supply chain.
"It's allowing us to be an incredibly effective distributed team," Whitley says. "We can take advantage of all the best skills and resources across the United States because we can leverage a digital infrastructure that allows everyone to work together. We're not bound locally anymore in the ways that we used to be." We can be partners with our supply chain in this digital transformation.
For NGI, whose prime duty is to protect the homeland, it means mission success.  "We can move with velocity to get the warfighter what they need."
A Vision of Sustainability
Whitley a contributor to Lockheed Martin's 2025 sustainability goals, highlighted in the company's current Sustainability Report, believes that digital technologies like artificial intelligence and machine learning and their relationship to data and data protection are critical enablers of a sustainable future.
Just as NGI uses "all the best tools in our digital toolbox" to meet the challenges of defending our homeland, Lockheed Martin is also approaching sustainability with the same attitude of mission success.
"We have so much to contribute to solving the global challenges of sustainability," Whitley says.  "Companies like ours that have experience over and over and time and time again solving grand challenges, that prepares us for challenges like food insecurity and climate change. We have data and information that can help support addressing them." 
A Completely Virtual World Someday? 
Whitley says no.
"What we don't want to do is to completely forget about our physical world because of our digital one," Whitley believes.
Digital twins are one example of that complementary function. "Having a digital twin doesn't mean that we don't build the hardware, but they support each other," she says. "The digital twin makes the physical item better, and the physical item makes the digital one better. That's the relationship I see in the future.
"If we put the right focus on it, we can do a better job going forward of how those worlds coexist and benefit each other."
Interested in Learning More?