Where does Orion go after splashdown?
January 30, 2023
The historic Artemis I mission successfully concluded on Sunday, Dec. 11. But for NASA's Orion spacecraft, the journey was – and still is – far from over. 
Destination: Earth (Splashdown)
Upon completing its journey in space and splashing down to Earth off the coast of Baja California, the Artemis I Orion underwent a complex process that included recovery efforts at sea, a journey of 2,000+ miles and sharing parts with another Orion spacecraft headed to the Moon for Artemis II, the first mission with astronauts.
"Working alongside NASA's Exploration Ground Systems (EGS), Lockheed Martin had a small team offering counsel and insight into Orion's immediate recovery efforts once it docked at the pier in San Diego immediately following splashdown," said Nathan Varn, KSC Orion's ATLO Director, Lockheed Martin.
But our engineers' real work begins later, after Orion makes the 2,000+ mile journey to its launch site – Kennedy Space Center.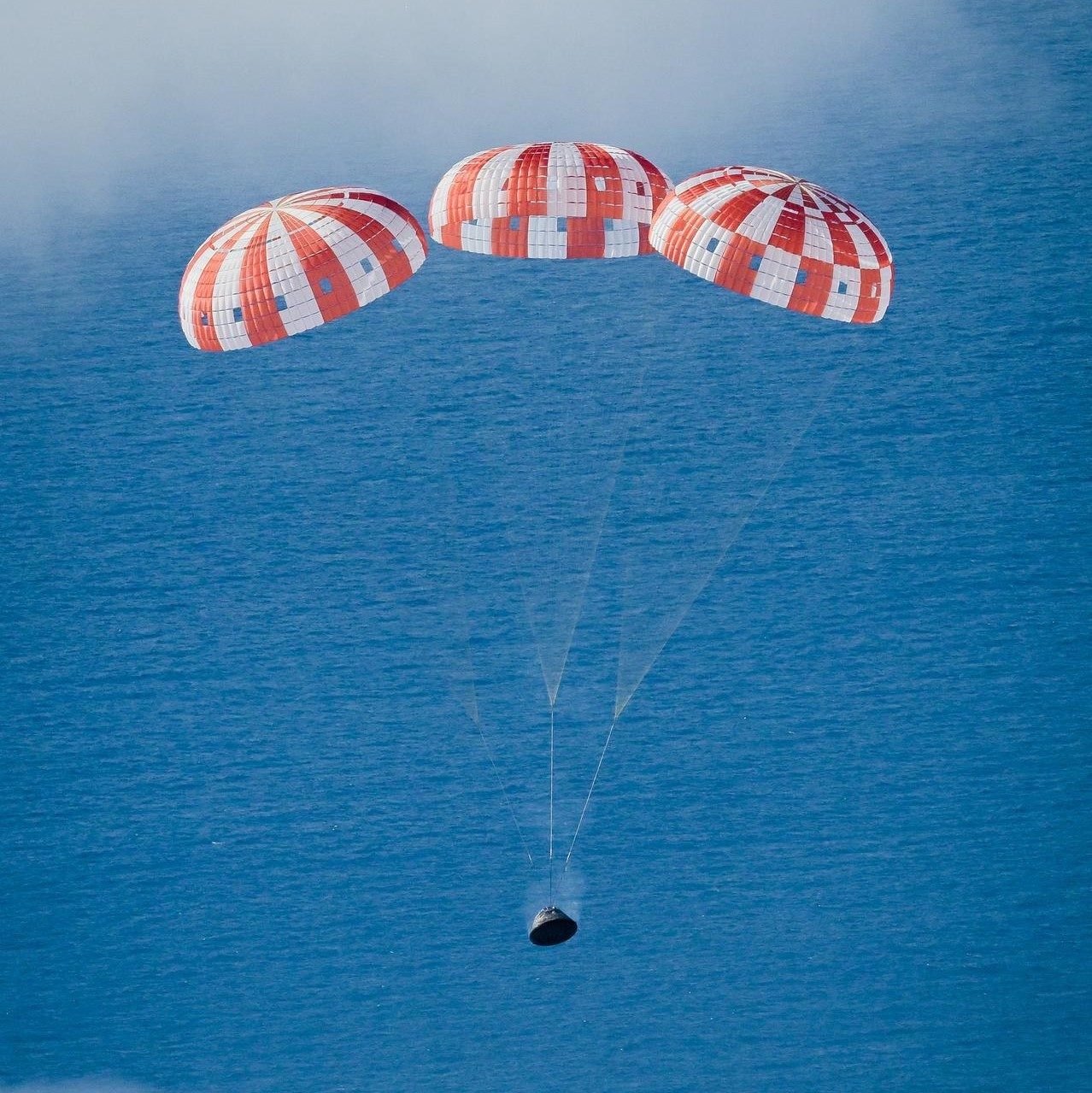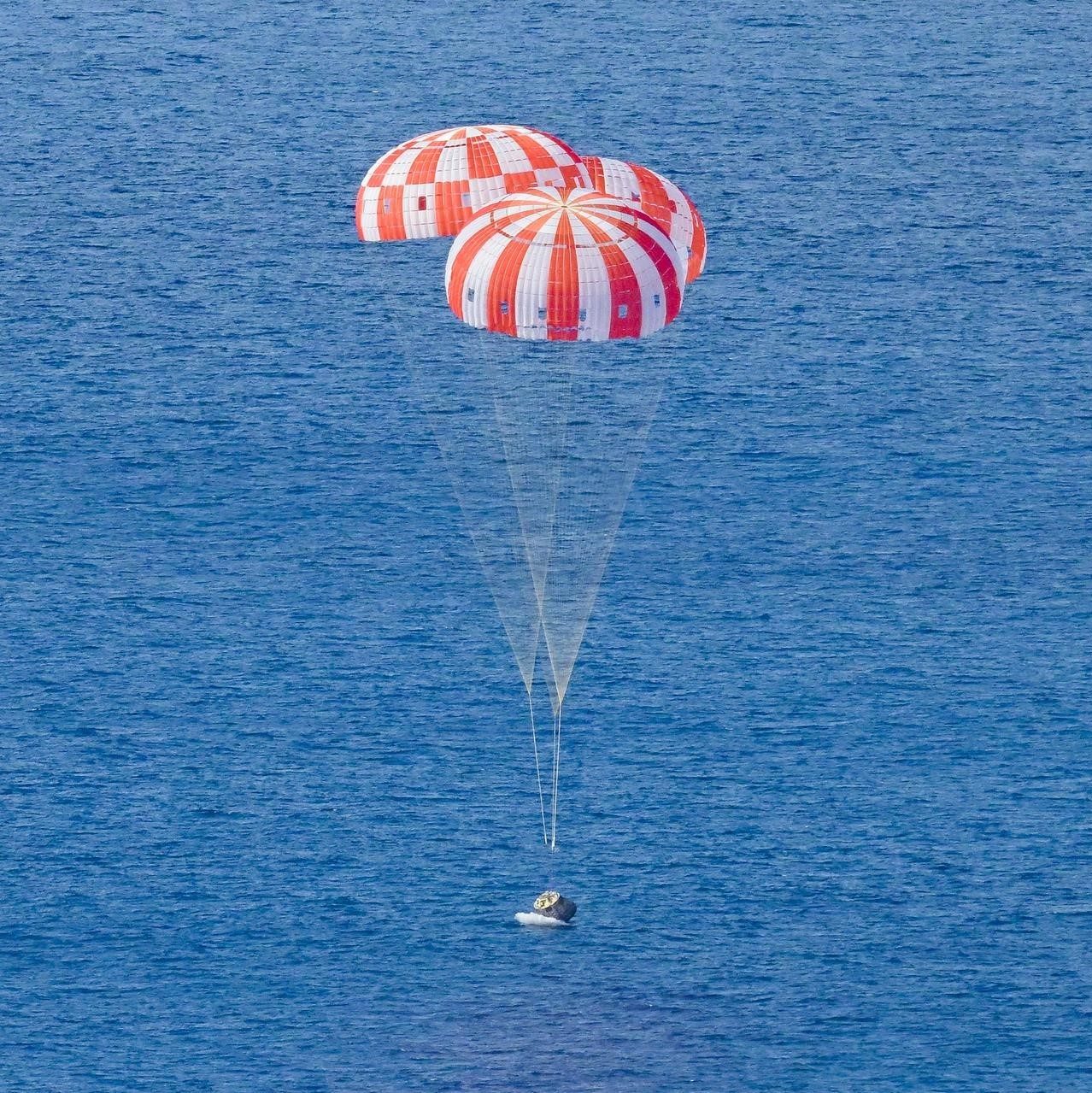 Destination: Kennedy Space Center (Transporting a Spacecraft)
To prepare Orion for transport back to Florida, NASA's EGS used a unique transport setup that includes a specialized trailer and a carefully mapped route that requires special state permits and, sometimes, specific time windows in which the spacecraft can be driven along state roads, in part to minimize the impact to the traveling public. 
Shortly after splashdown and while Orion was in transit back to KSC, a joint NASA and Lockheed Martin board reviewed flight data for the reuse of select parts and to determine if the parts are flight worthy for Artemis II.
When Orion arrived in Florida in Dec. 2022, the team immediately began de-servicing and disassembling activities.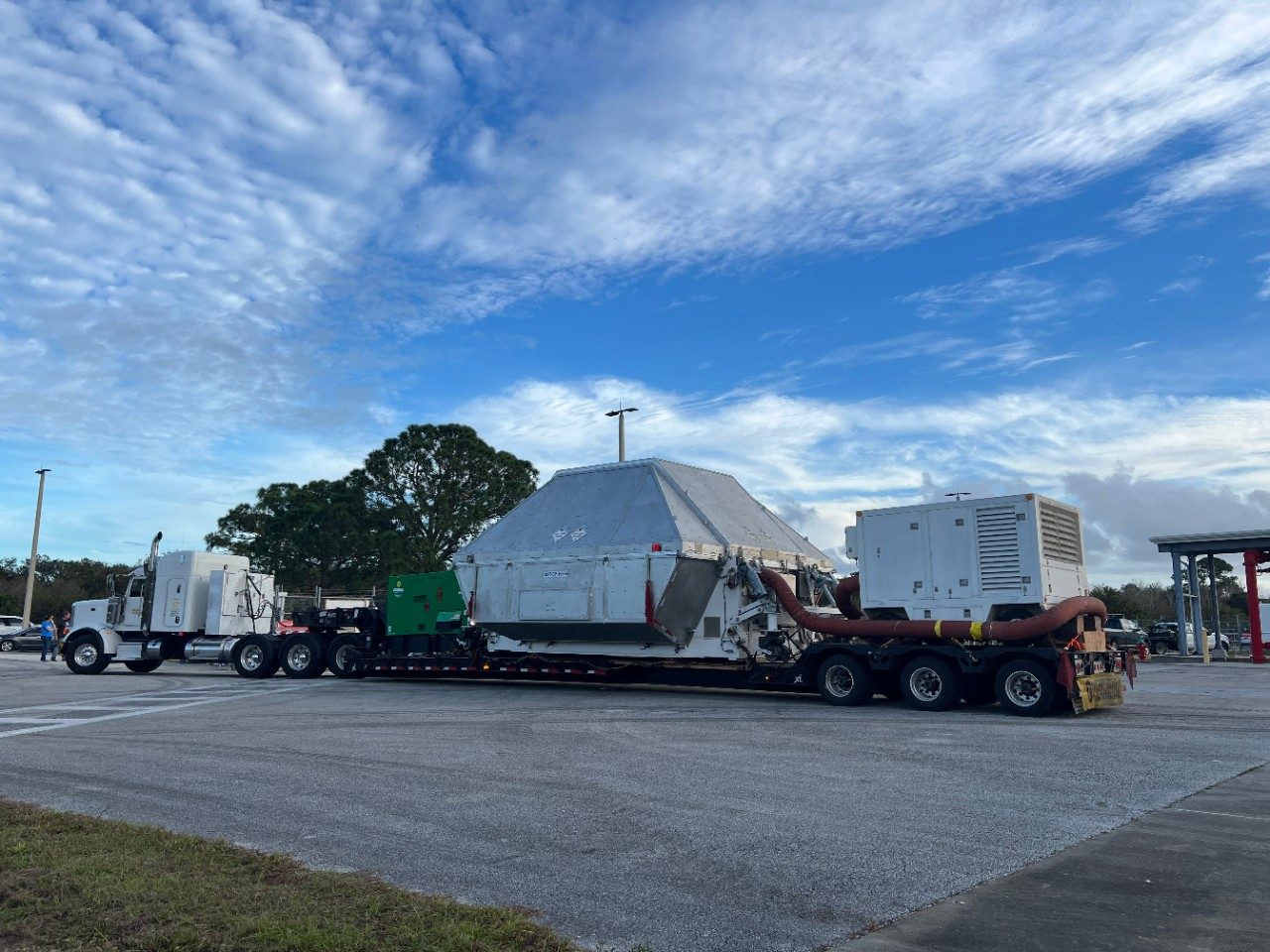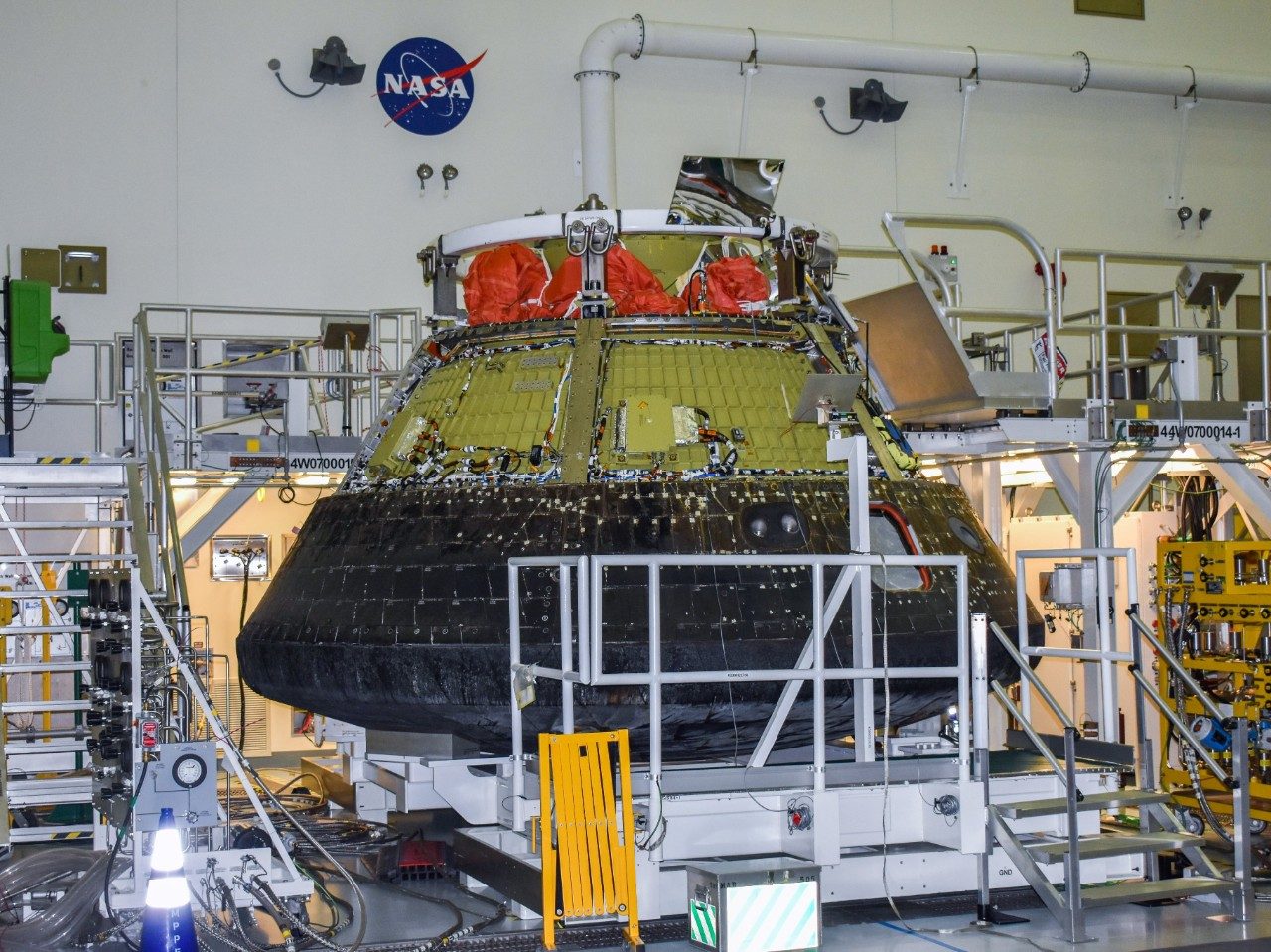 Destination: Back to Space (Orion's Reusability) 
Ten parts of the Artemis I Orion spacecraft will be used on the Orion that will carry astronauts to the Moon on Artemis II:
4 Phased Array Antennas: primary data and voice communication link for NASA astronauts across all mission phases
3 Orion Inertial Measurement Units (OIMUs): that provide inertial measurement data to the vehicle's guidance navigation and controls system
1 GPS receiver: used for navigation purposes (along with data from the OIMUs) to determine Orion's location in space when near the Earth
1 Vision Processing Unit (VPU): houses the backup flight control system for execution of mission critical dynamic events, and to enable recovery of primary flight control computers. It also provides storage of high-rate mission operational data
1 crew seat: the same one used by Commander Moonikin Campos
"As soon as Orion arrived in Florida, we began the process of disassembling, inspecting and refurbishing those 10 parts to certify them for flight and integrate them into the next Orion," said Varn. "Our team has built out systems and processes to accomplish all of this as efficiently as possible."
One of the key components that makes this efficient is a unique tracking system. Built in a partnership between Lockheed Martin's Space division, responsible for the build of Orion, and the Rotary and Mission Systems division, which has a deep expertise in logistics, this is a comprehensive system that will enable NASA and Lockheed Martin to track each of the 10 parts – their physical location, work orders for refurbishments, the parts life cycle and other key markers.
The last step is getting the part certified to fly again, then installing it on the new Orion vehicle for Artemis II.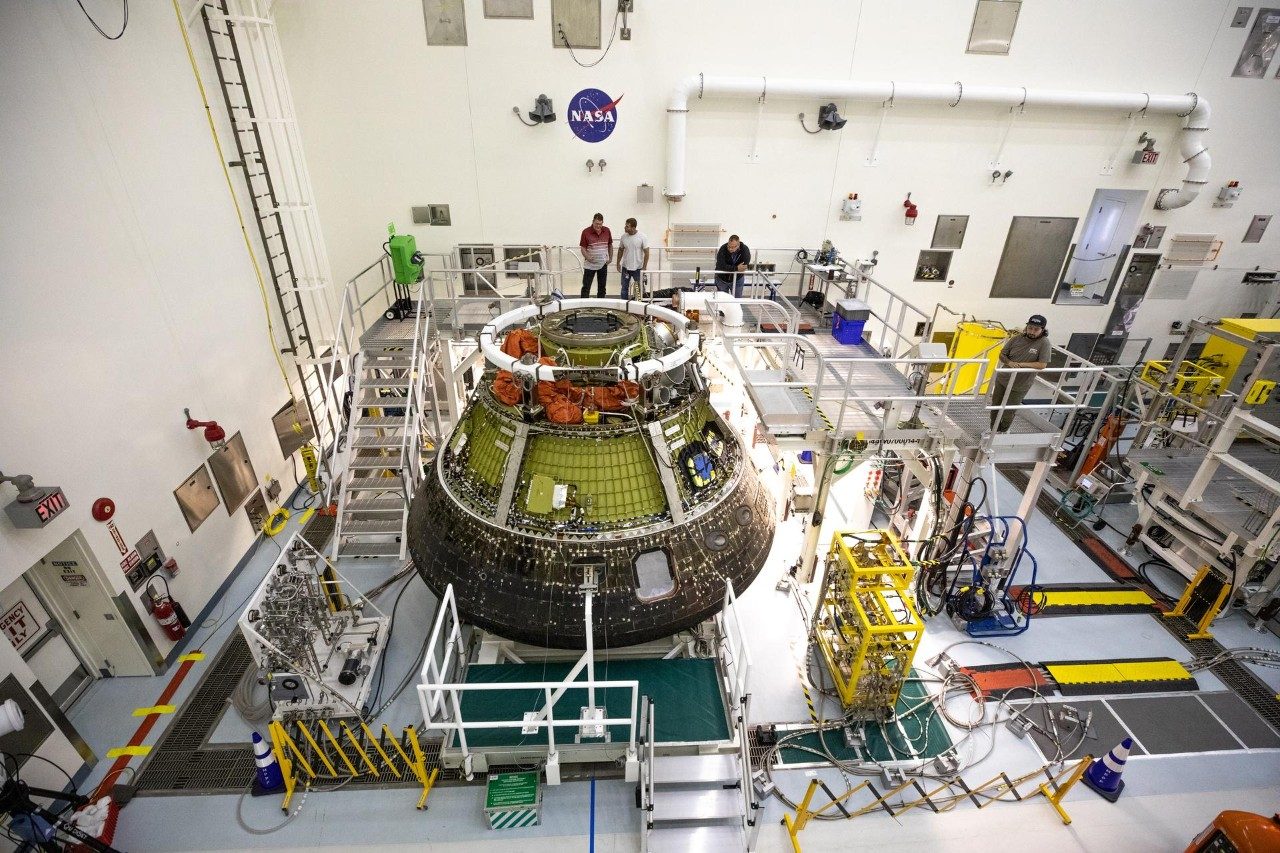 The Orion spacecraft from the Artemis I mission being deserviced. Some parts from this spacecraft will be installed on the Orion spacecraft for the Artemis II mission.
"Our engineers have undergone numerous dry runs and dress rehearsals to make the process of transferring these parts from one Orion to another as efficient as possible," said Varn.
In fact, Artemis I's reuse process will serve as a pathfinder for future missions. Five components from Artemis I's Orion will also be reused on Artemis III – those include several location and communication components such as the second GPS receiver, a tri-band beacon, two s-band baseband processor and two s-band transponders.
Artemis I's individual component reuse process will scale up to Artemis II's reuse of 500 parts and will serve as a stepping-stone toward module reuse, where engineers will be able to take 'modules' – an assembly of several components – from vehicle to vehicle. With module reuse, Artemis III is set to reuse over 5,000 components.  
Destination: The History Books
The Artemis I Orion has more than earned its place in the history books.
NASA's Artemis program will send the first woman and first person of color to the Moon over the course of several missions – all on Orions that will carry pieces of their predecessor spacecraft through space.
Orion can take humans further and further into space – and eventually, to Mars.