Lockheed Martin Invites You to Attend the 2023 Hercules Orion Conference (HOC)

Delivering the Sustainment Edge
Oct. 16-19, 2023

Renaissance Atlanta Waverly Hotel & Convention Center
Atlanta, Georgia
 The Hercules and Orion communities will unite again at the Hercules Orion Conference (HOC) in 2023. This annual collaboration continues and reflects the shared mobility and operational interest among the communities. We are continuing with the track format introduced at last year's conference; however, the number of available sessions has been more than doubled, allowing for a wider scope of content. In addition, we are pleased to announce the return of the Lockheed Martin Plant Tour.
This annual event includes more than 80 exhibitors in addition to presentations on the C-130B-J, L-100, LM-100J and P-3/CP-140 aircraft. This event also provides networking opportunities that allow for sharing operational, technical, modification and maintenance insights among the Hercules and Orion operators, aircrew, service centers, logisticians and suppliers from around the world. 
As you make plans to attend the HOC, take note of important enhancements and information about this year's conference. This year's event theme is "Delivering the Sustainment Edge," which is a focus area within Lockheed Martin. The Sustainment Edge is where the solutions we deliver impact the success, mission generation and operational flexibility of our aircraft touch points whether at home, down range, on a flightline, in the field or even in space. The Sustainment Edge topic at the HOC will be explored in all our sessions, including in the general keynote presentations and during aircraft-specific sessions. Lockheed Martin will focus on those discriminators that optimize affordability, readiness, and sustainment to enhance the event's value.
Registration/Event Information 
2023 HOC registration is now open on the HOC event website here. Event schedule, logistics, accommodations, networking events and registration information will be available on the website.
Sponsorship Opportunities 
Four distinct sponsorship levels are available this year: Platinum, Gold, Silver, and Bronze. Additional sponsorship opportunities are available but have limited availability. For more information, please check the registration website or contact the Customer Support Center at hoc.support@lmco.com or +1 770-494-9131.
Keynote and Featured Speakers 
Each day of the conference includes at least two keynote speakers that will bring important insights into the Orion and Hercules communities. These engaging speakers represent a variety of operational backgrounds.
Dedicated Tracks and Workshops 
The 2023 HOC provides unparalleled value to operators and maintainers through five tracks. These tracks include presentations, operator updates and workshop-style interactions.
Side Meetings 
LM personnel will support request for scheduled private customer side meetings. A date and time will be selected for you to best align with the schedules of all participants in the side meetings. For more details and the request form, please see the HOC event website here.
Aircraft in Action 
As part of the 2023 HOC, operators have a forum to share stories about how they use the C-130, L-100/LM-100 and P-3/CP-140 aircraft to support worldwide operational and humanitarian efforts. We will highlight these stories through photos, videos and words. Photos are featured in the 2024 HOC calendar; videos are shown throughout the conference and written accounts are included on the HOC website and the C-130 app.
Photos must be high-resolution (300 dpi) and include aircraft owner/operator, aircraft model/version, location photograph was taken, release of copyright and photographer's name and contact information. Submit all photos, videos, and stories to hoc.support@lmco.com. Deadline for photos to be considered for inclusion in the 2024 HOC calendar is July 20, 2023. Deadline for photos, videos, and written accounts to be included in the conference is Aug. 15, 2023.

NOTICE: Lockheed Martin Corporation (LMC) does not necessarily endorse or recommend any of the products or services presented during the Hercules Orion Conference (HOC). The views, opinions or recommendations expressed by any of the HOC participants during formal and informal presentations, briefings or discussions do not necessarily reflect those of LMC.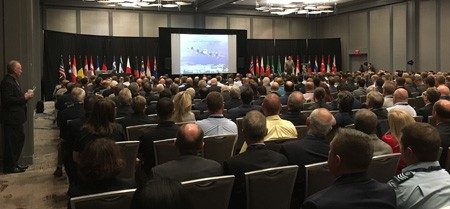 Please direct conference questions to  
hoc.support@lmco.com
 or +1 770-494-9131. We look forward to seeing you in October for the 2023 HOC!