Lockheed Martin's Camden Operations facility is a manufacturing, final assembly, test and storage operation for Lockheed Martin Missiles and Fire Control (MFC) programs. Located in the Highland Industrial Park in Camden, Arkansas, it occupies a combined manufacturing and support function floor space on more than 2.2 million square feet spread out over more than 2,400 acres of land. More than 1000 employees work in the facility's manufacturing and support buildings.
Established in 1978 as the home of the Multiple Launch Rocket System (MLRS) production program, Camden Operations is today Lockheed Martin's Precision Fires operations center of excellence. It continues to produce the MLRS launcher and family of munitions, which includes the Guided MLRS Unitary Rocket. It is home to the Tactical Missile System (TACMS) missile, and the High Mobility Artillery Rocket System (HIMARS) launcher, which fires both MLRS rockets and TACMS missiles. The PAC-3 Missile Segment Enhancement (MSE), the world's most advanced air defense missile, is also manufactured here.
The Camden Operations facility also manufactures elements of the Terminal High Altitude Area Defense (THAAD) Weapon System, including the launchers and fire control/communications units.
In November 2012, the Camden Operations facility was one of eleven MFC facilities selected as a recipient of the Malcolm Baldrige National Quality Award for performance excellence and quality achievement. The facility received IndustryWeek magazine's Best Plants Award in 2006, and the Shingo Silver Medallion for Operational Excellence in 2008 and 2009. Other awards include the Arkansas Governor's Award for Manufacturing Quality, the Arkansas Philanthropic Business of the Year, the Arkansas Recycler of the Year and the Camden Area Chamber of Commerce's Industry of The Year.
Telephone:
870-574-0200

Address:
Highway 205,
Highland Industrial Park
Camden, AR 71701

Map:
Camden Map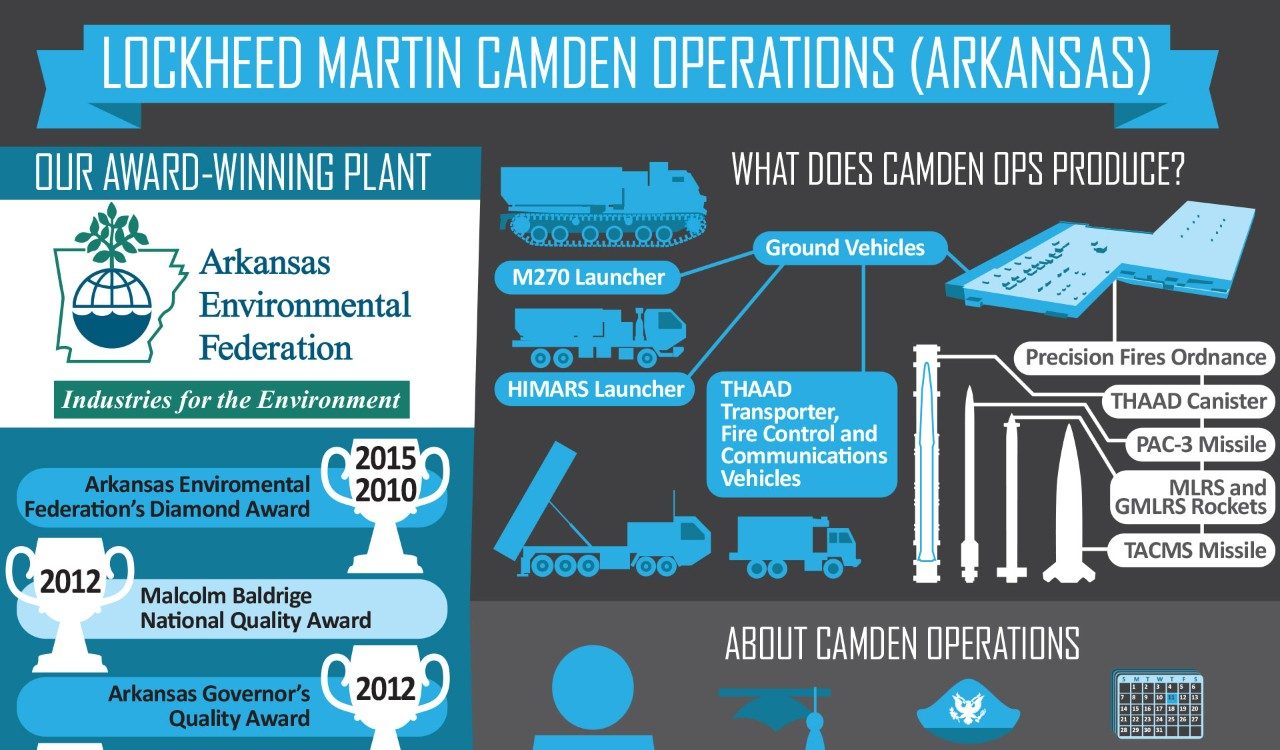 Directions From: Little Rock National Airport
Exit airport, stay on Bankhead Drive to I-440.
Go West on I-440 to I-530.
Go South on I-530 to Sheridan exit (US 167) (approx. 12 miles).
Go South on US 167 to Fordyce (approx. 61 miles).
Go Southwest on US 79 to US 278 (approx. 22 miles).
Go East on US 278 (approx. 1 mile).
US 278 will merge with Hwy 274.
Continue straight onto Hwy 274 to Lockheed Martin (approx. 3 miles).
Environmental, Safety and Health Policy
The Environmental, Safety and Health (ESH) Policy of Missiles and Fire Control is to operate our facilities in a regulatory, compliant, responsible manner that protects the environment and surrounding communities, commits to pollution prevention and prevention of occupational injury and ill health, conserves natural resources, and provides a safe and healthful workplace for employees, contractors and visitors. The policy requires employees to:
Integrate ESH considerations into strategic business decisions, engineering design, procurement, facilities management and production.

Continually improve the environmental aspects and safety and health performance of our business and incorporate, establish and review ESH goals in applicable performance measurements.

Cultivate ESH responsibility by all employees' at all organizational levels and those who work on behalf of and under the control of the company.
GMLRS, MLRS, HIMARS and PAC-3 are registered in the U.S. Patent and Trademark Office by Lockheed Martin Corporation;
THAAD and ATACMS are trademarks of Lockheed Martin Corporation. All Rights Reserved.