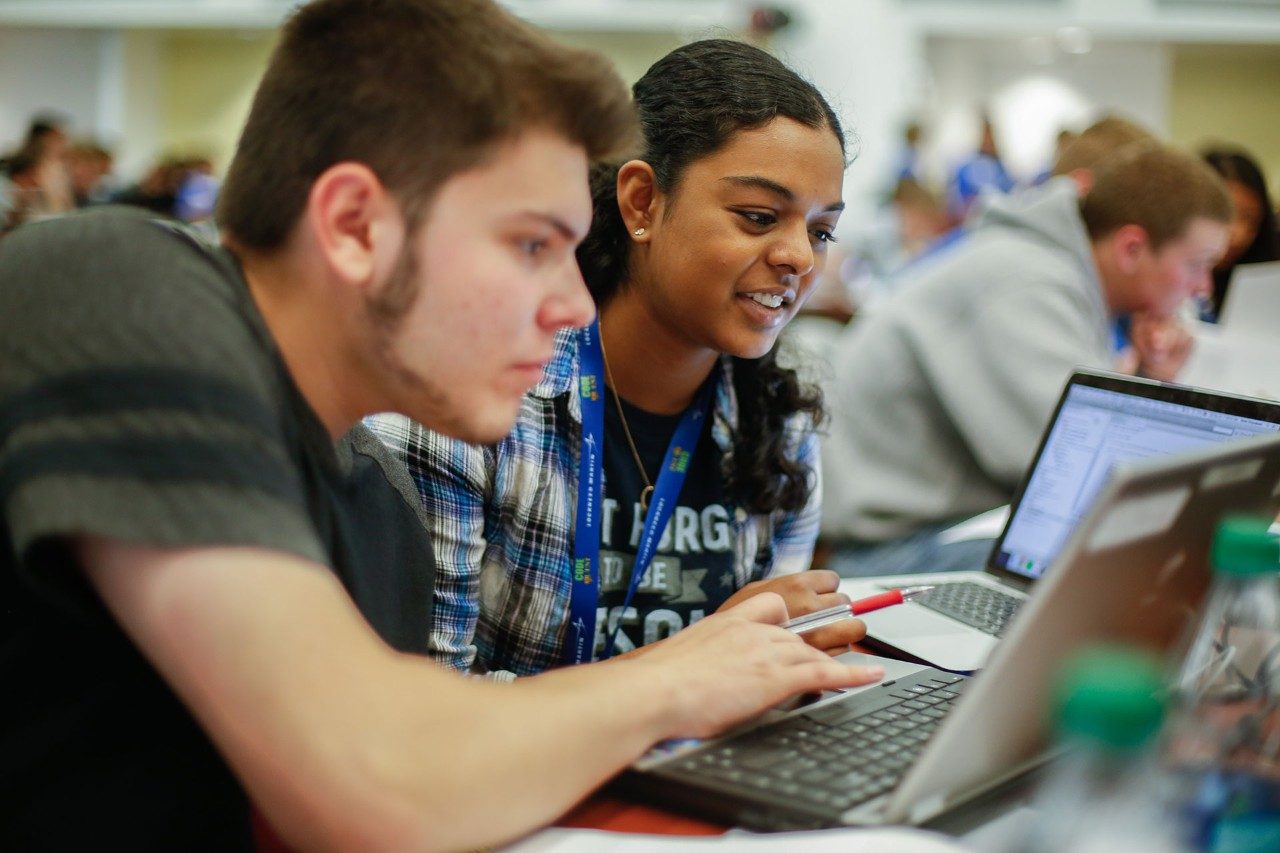 Code Quest 2019 Will Be Held on April 27th.
Registration will open January 21, 2019
Code Quest 2018 will take place on Saturday, April 21, 2018 at Aguadilla, Puerto Rico; Ampthill, United Kingdom; Dallas, Texas; Denver, Colorado; Fort Worth, Texas; Greenville, South Carolina; Huntsville, Alabama; King of Prussia, Pennsylvania; Marietta, Georgia; Moorestown, New Jersey; Orlando, Florida; Owego, New York; Palmdale, California; Aguadilla, Puerto Rico; Stratford, Connecticut; Suffolk, Virginia; Sunnyvale, California; Washington DC and Whiteley, United Kingdom.
Code Quest is an annual computer programming competition where teams of 2-3 High School students each work together for 2.5 hours to solve problems by using JAVA, Python, VB.net, C, and/or C++ programming to complete the "quest." The problem set consists of 15-20 challenging problems created by Lockheed Martin engineers and computer programmers. 
Novice level consists of all students on a team with 1 year or less of coding classes in the languages used at Code Quest and/or competitions. If there is a student with more than 1-year experience in the coding languages being used, that team must be registered as Advanced. For clarifications or questions please contact code-quest.gr-aero@lmco.com
Novice and advanced levels please refer to your site-specific page.

Code Quest Events
April 27, 2019

Aguadilla, PR
Ampthill, UK
Annapolis Junction, MD (new site)
Arlington, VA (new site)
Canberra, Australia
Bethesda, MD
Colorado Springs, CO (new site)
Dallas (Grand Prairie), TX
Dartmouth, Nova Scotia, CA (new site)
Denver, CO
Fort Worth, TX
Greenville, SC
Houston (Clear Lake), TX (new site)
Huntsville, AL
King of Prussia, PA
Marietta, GA
Mielec, PL
Moorestown, NJ
Orlando, FL
Owego, NY
Palmdale, CA
Stratford, CT
Sunnyvale, CA
Whiteley, UK
Contact Code Quest:
For additional information,
please email Code Quest at
code-quest.gr-aero@lmco.com