News
Delivering Digitally for F-35 Force Management Solutions
February 23, 2021
The Lockheed Martin Aeronautics Common Analysis Toolset Data Manager (CATDM) is a tool that generates an aircraft's Structural Digital Twin. A Structural Digital Twin is the way to visualize all the known data of a physical asset into a digital one-stop-shop. It's a digital replica that includes material information, test data, configuration and force management results based on operational environments. 
CATDM is used to host and deliver F-35 structural engineering data and products in a connected, graphical fashion. (Pictured in the graphic below)
Why it Matters:
It helps Lockheed Martin deliver Sustainment contract requirements for Structural Integrity data to F-35 Customers faster and more affordably. It also provides a more efficient and customized end-user experience for operational decision makers.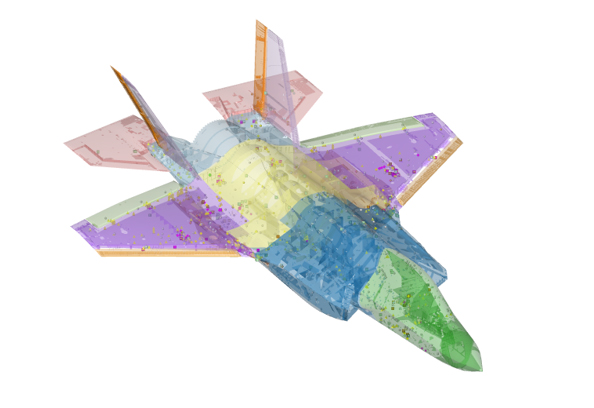 How it Works:
The tool compiles F-35 aircraft configuration data, analysis and their results, and historical documents from various sources for each tail number at the part number level. This includes things like type version effectivity, control point locations, stress analysis, photos of existing damage and repairs, inspection details, and more. 
CATDM then presents the structural analysis data in a graphical fashion using enhanced 3D visualization of the aircraft structure. The user hovers and clicks on various parts of the jet to instantly view data and analysis results they need to make decisions and plan force maintenance actions.
A customized version of CATDM is directly accessible to F-35 operational decision makers, providing tailored, force management solutions reflecting customer-specific structural configuration and operational usage. Having a comprehensive, electronic, current and searchable data source by tail number and part number at their fingertips reduces research time for product support issues and allows for optimization and customization of force management strategies. 
CATDM also helps Lockheed Martin deliver Sustainment contract requirements for Structure Analysis data to F-35 customers faster and more affordably. This applies to initial data product deliveries and all subsequent updates for recurring requirements. Lockheed Martin has documented a 75% cost reduction in delivering these types of data products – like Force Structure Maintenance Plans, Individual Aircraft Tracking Reports – compared to historical methods. These enhanced performance metrics are being used to reduce cost estimates going forward for multiple contract requirements thus reducing the cost of F-35 ownership.
---